【Press release provided by the Public Relations Office】To adapt to the government's plan for developing Taiwan into a bilingual nation by 2030, Wenzao Ursuline University of Languages launched the "Wenzao Teaching Through English (TTE) Certificate" program, the first of its kind in Taiwan, while other institutions across Taiwan put all their efforts into employing reserve teachers to teach through English. The program constitutes a quality assurance mechanism for implementing Taiwan's bilingual education policy and creating an excellent bilingual environment. The first session of the Wenzao TTE Certificate program was held earlier to promote the program; more than 10 domestic and foreign teachers registered for, and participated in, the activity.
The activity lasted two days with eight rounds. To simulate a real teaching environment, Wenzao established two professional TTE Certificate program classrooms and invited 30 elementary school students to participate in the activity. All of the participants in the program were thus able to proceed with certification via real-classroom teaching demonstration. While the participants were teaching, the team of the TTE Certificate evaluators, consisting of interdepartmental professors from Wenzao observed and evaluated them onsite.
In addition to real-classroom teaching demonstration in English, lesson plan and interviews related to English teaching practice and philosophy are also adopted for certification. The comprehensive evaluation criteria include more than 80 specific indicators. The Wenzao TTE Certificate in both Chinese and English will be conferred on those who pass the evaluation. Not only can certificate recipients use the Certificate as strong proof of their ability to teach through English, but they can also become reserve teachers in Wenzao's Division of Extension Education, or be recommended to other educational units or institutions to teach there.
The Wenzao TTE Certificate can be used as a criterion by public and private elementary schools, as well as language schools, for evaluating and recruiting teachers to teach through English. It can also be used to examine foreign teachers' qualifications. All of these are beneficial to promoting English-taught courses in elementary and junior high schools, while improving the quality of English language schools. In particular, the Certificate can help those who aspire to become English teachers to improve their ability to teach through English and boost their career prospects. For public and private educational institutions, Wenzao especially provides them with a customized certification option. Certification can be directly completed in a teaching environment offered by said institutions, which brings it closer to what an actual teaching place requires. Meanwhile, Wenzao welcomes institutions and groups to establish strategic cooperation, whereby Wenzao can provide their teachers with training and certification, strengthen their teachers' ability to teach through English, and improve their brands and social identification.
The convener of the planning task force for TTE Certificate, Professor Isabel Chuo, suggests that faculty training is critical to the success of bilingual education. Current training courses, workshops, credit courses, and knowledge testing are necessary, but impractical. With a focus on both the applications of teaching knowledge and the demonstration of teaching skills, the Wenzao TTE Certificate program can be said to be an authentic and strict method for evaluating teaching through English. It thus deserves attention from the government and should be promoted. The cooperation between the Education Bureau of Kaohsiung City Government and Wenzao on foreign faculty training and certification is a good start for the program. It is hoped that both parties can continue to cooperate with each other in the future, putting all efforts into promoting Kaohsiung's bilingual education.
Commissioned by the Education Bureau of Kaohsiung City Government to visit the sites where certification was conducted, alumna/teacher Li-Ling Hsu indicates that the Bureau actively sought cooperation with Wenzao because schools at all levels reflected that some of their foreign teachers do not offer professional teaching. They hoped to find professional training courses for these teachers, and designated Wenzao as the school with which they would like to cooperate because of its professionalism and achievement in foreign language teaching. In recent years, the pass rate in elementary school teacher training for its students has been high, which proves that Wenzao takes the lead in cultivating English teachers.
Hsu points out that she has often had a chance to serve as an examiner in English teacher screening tests due to her job. She has seen her fellow students' strengths in English, which points to Wenzao's success in English education. After participating in the session of the Wenzao TTE Certificate program held by Wenzao for two full days, Hsu highly recognizes the program. Most foreign teachers have outstanding performance in applying English teaching to life curriculum. She recommends that Wenzao train these teachers to use English as a tool in teaching various courses so that they can teach better in the future. Only by designing different teaching materials and proposals can these teachers satisfy the government's need for bilingual education by 2030. This approach can be used as a basis for the future development direction of bilingual education.
Lastly, participants in the two-day session of the TTE Certificate program said that the program classrooms were bright and comfortable with ingenious design, which helped them ease their nervousness. They hope that they can develop their competitive advantages in English teaching with a certificate from Wenzao, the only university of languages in Taiwan. They also hope that they can become important pioneers in promoting Taiwan's English and bilingual education.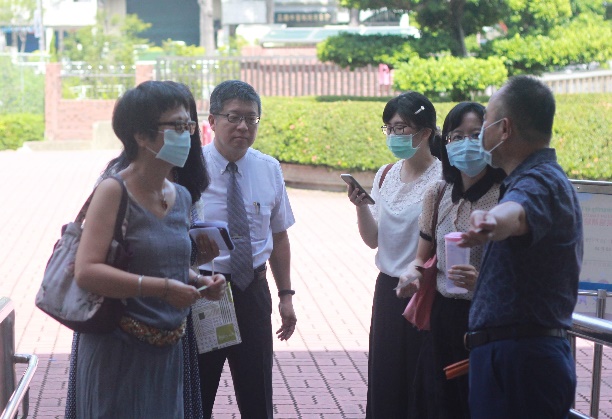 Vice President Chung-Hsien Shih welcomed teachers commissioned by the Education Bureau to the University.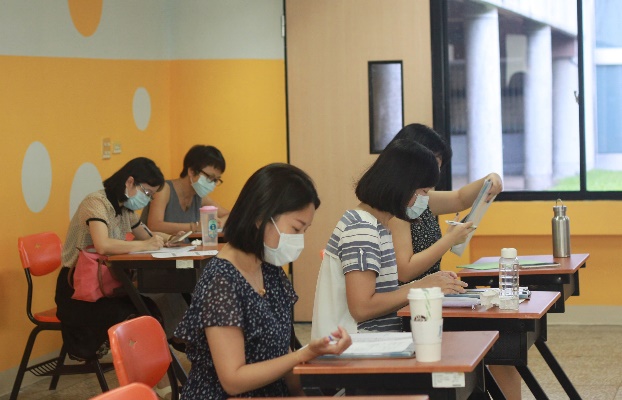 The team of the TTE Certificate evaluators consisting of interdepartmental professors from Wenzao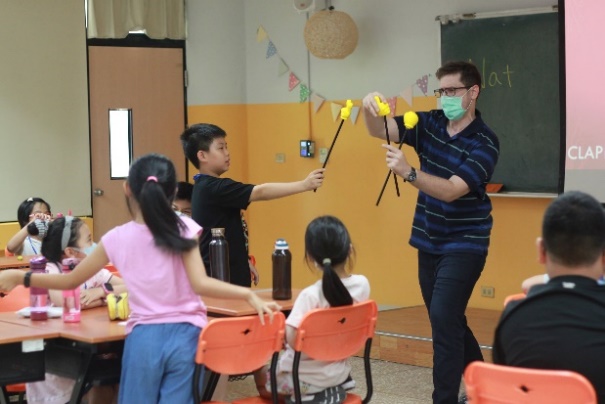 A real-classroom teaching demonstration given by a participant in the TTE Certificate program