Wenzao – Ursuline Educational Method (The Laurel method)
About the Laurel Method
The Laurel Method is a unique design thinking methodology developed based on Wenzao educational approaches and the University's 5 core Wenzao-Ursuline Values. This method is designed to be used in developing new solutions that will impact university and student life.
The Laurel Tree Emblem
The Tree:
The Laurel Method Tree consists of 5 core leaves. The leaves are shaped like speech bubbles that was inspired by the speech bubble and butterfly symbolisms from the school's logo.
The Invisible Branches:
The invisible branches of the tree symbolises the interconnectedness of all 5 steps of the Wenzao-Ursuline inspired problem-solving method.
The Five Steps:
Building on the idea of speech and having conversations, the five steps uses a series of fundamental questions to probe deep thinking about issues, challenges or decisions to be made. The questions are as follows:
Step 1: Serviam: Who are we serving
? How can we serve better?
Step 2: Hope: What is the hope we can aspire to?
Step 3: Above all: Is this essential or is this vanity? Ask yourself the 5 Whys?
Step 4: Togetherness: Who can we work with to fulfill this intuition?
Step 5: Lead a new life: How can we shape this new idea with courage and pragmatism?
The Laurel Method as a problem-solving methodology
The 5 Wenzao-Ursuline Values comes together to form a sequential a five-step method that guides individuals through a process of understanding a situation or problem, redefining the issues or gaps, defining alternative strategies or solutions and finally deciding on a solution and planning how to implement it successfully. The 5 steps are as follows:
Step 1 (Serviam): When looking at a problem, the first step is to think of your target stakeholders and to define their needs. Having an empathetic understanding of the relevant stakeholders and their needs will enable a human-centered approach, to remove assumptions and discover real insights. Aligning this with the Wenzao-Ursuline values, we are asking "who can we serve" and "how can we serve better".
Step 2 (Hope): The second step is to define the problem that you wish to solve, and to think of the ideal state, goals or objectives you would like to see achieved. This can be remembered by the Wenzao-Ursuline value of Hope.
Step 3 (Above All): The third step is to establish the reasons for the problems. Use the 5 Whys iterative interrogation technique (ask yourselves "why does this happen?" 5 times) to explore the cause-and-effect relationships of the problem in order to uncover the root cause of that particular problem. With this step, we are challenging our assumptions and to discover the most crucial and essential reasons for a new idea. In essence, we are asking ourselves "above all, why does this matter?"
Step 4 (Togetherness): The fourth step is to brainstorm and to ideate solutions that address the root cause of the problem. Think outside the box to generate as many ideas. In the spirit of togetherness, work with others openly in idea generation and do not forget to think of ways for collaborative efforts with different stakeholders; It is important to not solve problems without engaging with stakeholders. Test your ideas with others, build partnerships and practice collaborative thinking.
Step 5 (Lead a new Life): The final step is to prototype your chosen or decided solution. Good solutions are viable, feasible and sustainable. An embrace and entrepreneurial mindset and attitude to test new ideas. Come up with a concrete action plan for ensuring that your idea comes to fruition. To ensure this, make sure you have a working timeline, agreed roles and responsibilities and an accountability structure in place.
The applications of the laurel Method
Since its introduction, the Laurel Method has been used in the University in multiple applications including:
Career Development

Faculty and Staff Development

Education Curriculum Innovation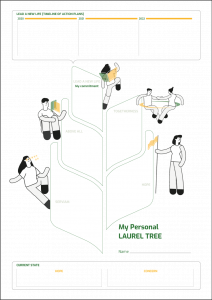 Example: The Laurel Method Career Development Worksheet